Conscious Singles Retreat in Mt. Shasta
Ready to connect with spiritual singles in person?
Conscious Singles Retreat in Mt. Shasta
Friday, Sept. 29 - Sunday, Oct. 1.
Early Bird Registration Ends August 1st.
When people connect with nature and community, magic happens. And when the activating vortex of Mt. Shasta is your playground, the alchemy is amplified!
What magic awaits you?
Unleash and share your passion and wisdom

Feel even more comfortable and at ease in your body

Boost your confidence and self-esteem

Discover a way of being that feels calm, grounded, and ALIVE!

Create deep connections and friendships with conscious singles
Join a community of beautiful souls saying YES! to a potent combination of nature, play, energetic embodiment practices, and ceremony.
YES! I'M IN
Explore key facets of love, dating, and relating.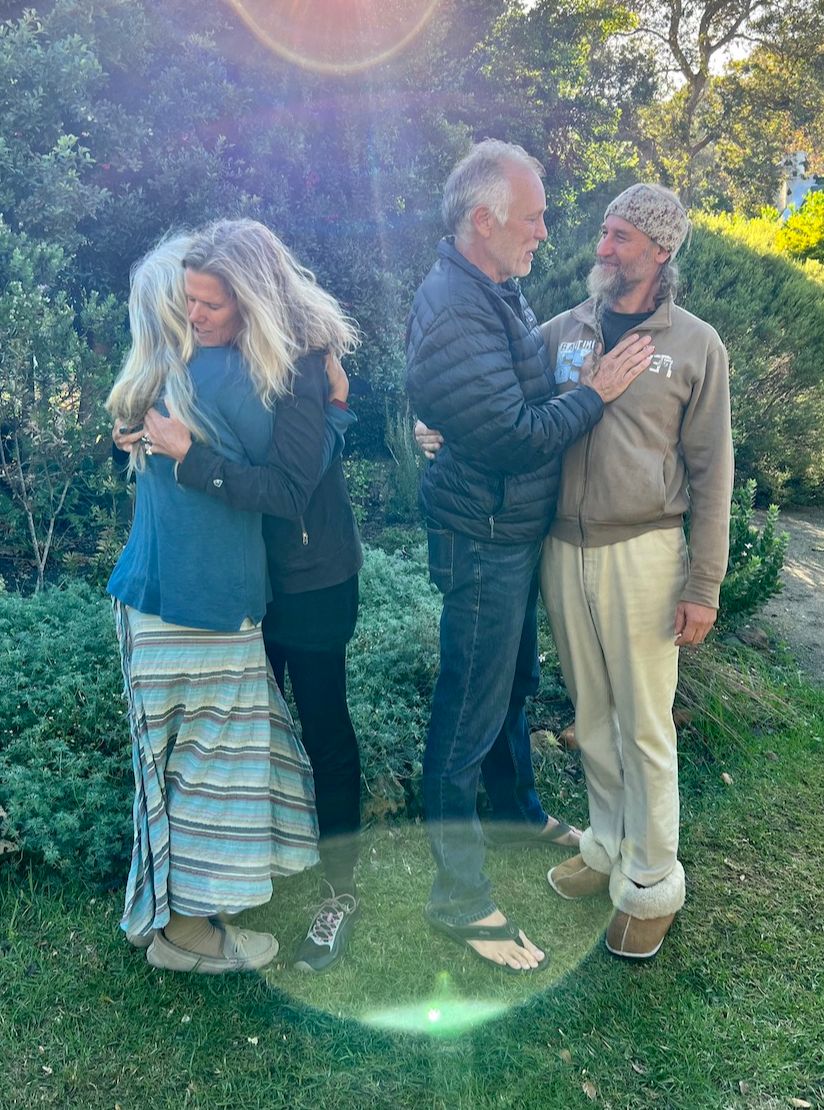 The evolved masculine and feminine within ourselves (tantric union)

Why boundaries and clear agreements enhance trust

How to avoid common dating pitfalls

The importance of the nervous system and emotional regulation for intimacy

Tools to reclaim your sovereignty and authenticity in relationships
You will not only leave "turned on" and refreshed, but you'll also have potent tools and resources to apply to your life!
Will you step into this soul-inspiring gathering with us?
Join us for a rejuvenating weekend in Mt. Shasta, where we will play together in nature - all while creating space for a magical transformation.
Sept. 29 - Oct. 1
Are you ready for love?
Step more fully into your true essence and shine your soul's light

Align with your path of growth and draw in relationships that support you

Understand the power of community and groups for evolution

Deeply love yourself as the first step to manifesting a partner

Create healthy relationships grounded in soulful living
Friday, Sept 29th, 4:00 - 9:00pm
We will begin welcoming you at 4:00, allowing you time to explore the grounds and mingle. We'll gather in a circle for our opening activation starting at 4:30. The evening will include a playful orientation of the weekend, interactive group activities so you get to know everyone, a catered dinner, and dancing under the stars (or indoors if raining).
Saturday, Sept 30th, 9:00 am - 9:00 pm
Arrive early for tea and mingling on the patio or by the creek, followed by light chi gong before we head out for our first nature excursion, where you'll be free to journal, meditate, and contemplate quietly. Upon returning to Creekside Inn, we'll have a catered lunch and focus on group activities and learning. There will be a dinner break where you can enjoy one of the local restaurants, and then we'll reconvene after dark for a fire circle to call in the one.
Sunday, Oct 1st, 9:00 am - 5:00 pm
Once again, you can arrive early for tea and mingling before 9:00, stretching, and easy yoga. The majority of our morning will be spent in nature. We will visit a pristine high-altitude setting, with additional time for walking and individual exploration. Upon our return, a catered lunch will be provided, with more learning, discussion, and activities to follow. We will end the retreat with our closing activation, celebration, and 'free your spirit' dance.
Our Sacred Meeting Space:
Enjoy our home base at The Creekside Inn, which offers us a large patio for outdoor eating and chillin', a hot tub, a ceremonial fire circle, creek access, a big lawn to dance and move, a yoga and sound healing room, a kitchen, and community spaces to hang out together! (Lodging will be offsite.)
Join Us!
Join us in Mt. Shasta this fall.
Included in the price:
Guided chi gong and wellness practices

Three powerful activations for manifesting love

Facilitated learning and take-home materials

Excursions to beautiful destinations in nature

Dinner Friday evening

Saturday/Sunday lunches

Tea, lemonade, and snacks throughout

Amazing D.J. for dance and movement

Two group reunion/integration Zoom calls after the event
Plus online self-study courses:
Clear the Way to Be Your Own Intuitive

Better Boundaries without Barriers
Not included - lodging, breakfasts, and Saturday dinner.
Joy Clarissa Taylor is an ordained priestess, truth-teller, and artist of life. As a companion guide in awakening, she honors the principles of nature and everyone's innate ability to heal and create a life they love.
She founded A Soul Inspired Life, a company dedicated to the evolution of consciousness. The author of the #1 Amazon bestselling book, Inspired, and creator of A Woman's Way of Awakening, she is passionate about empowering people to contribute to a better world through authentic spiritual embodiment and inspired action.
As an empath with her feet on the ground, she weaves the practical with the mystical. She integrates soul exploration, breath, embodiment practices, dance, music, writing, and visual expression into her alchemical work.
Joy lives in Sacred Mt. Shasta, California, where heaven and earth meet. Her days are filled with yoga, tree hugs, lake swims or snow shoes, and soul-inspired services with clients and friends. www.ASoulInspiredLife.com
Lauri McKean is a dating and relationship mentor who helps women step into more loving, vibrant, and empowered relationships - starting with themselves. In 2020, she completed two years of online dating when she met her partner, Thommie, via the Conscious Dating Network. Not only did she have a successful outcome, but she also managed to experience dating as an opportunity for personal and spiritual growth, empowerment - and FUN! She has since created the Essentials of Effective Online Dating course to teach other women how to do the same.

Lauri has a very diverse background that includes decades of workshop facilitation, teaching Tai Chi and Qigong, and the practice of Chinese Medicine. She loves meditating, dancing, gardening, hiking, backpacking, kayaking and foraging wild edibles. For more information about Lauri and her business, Aligning to Love, visit www.AligningtoLove.com.
Joa Janakoayas, MA is President and Senior Faculty member of the University of Spiritual Psychology at Mount Shasta, California.  He has been in private practice for 37 years as an Intuitive Counselor, Life Coach, and Holistic Healer, working with individuals, couples, families, and groups.
Joa earned two Masters Degrees in Spiritual Psychology from the University For Creation Centered Spirituality and from the University of Santa Monica. He is also a graduate of the Coaches Training Institute. Joa is a Certified Yoga Instructor and was the owner of Illumination Yoga Studio in Los Angeles. 
Joa teaches BreathPlay, to repattern people's daily breathing habits from fear to empowerment, and he is the originator of the I AM Breath, a way of raising the Kundalini (the Soul's life force) for a self-exalted experience without the side effects of drugs. www.IAm-University.org
Gavin Frye, MA, LMT has 40 years' experience as a licensed spiritual therapist. He was catapulted onto his career path in his teens growing up with his brother, a convicted murderer and white supremacist gang leader. He learned how to heal trauma, and discovered his gift for bringing greater intimacy into our closest relationships. Gavin is an authority on the cutting edge world of male vulnerability.
 His new book, "THE REAL YOU: Leading Your Life From Your Authentic Self," is a comprehensive work that illuminates and makes accessible the universal path of the Authentic Self. The book interlaces an intimate autobiographical narrative throughout to illustrate its underlying principles.
Gavin served on faculty for 16 years at the University of Santa Monica in California from 1987-2002, facilitating the pioneering Master's Degree program in Spiritual Psychology. He also has extensive experience teaching live and online transformational workshops.
His many passions include international travel, kayak outings on alpine lakes, music, and daily partaking of the healing presence and beauty of nature in all its forms.
Sponsored By Conscious Dating Network
We are thrilled to partner with Conscious Dating Network to spread the word about our Free Your Spirit weekend retreat. Perhaps you are already a member of Spiritual Singles, Green Singles, Natural Awakening Singles, Conscious Singles... etc. The founder, Jill Crosby, is committed to offering the best dating sites (and opportunities like this one) for mindful singles to meet, open their hearts, and explore love... and that she does!
"This retreat was able to take a group of strangers and make us family."
- Patricia, past participant
"This was exactly what I needed. … a great container for safe expression and guidance."
- John, past participant
"I'm so glad I came for the weekend. The venue, food, participants, and above all - the energy and content was amazing."
-Neil, past participant
"What a great opportunity to grow with people of a like-mind. Will savor the energy and experience."
-Bob, past participant
"My experience at the loving singles retreat was completely engaging, fun, informative and ultimately transformative. I'm still in awe of what's happening. What a great adventure!"
-Damian, past participant
You likely need this experience more than you realize!
Love is all about deep connection. Conscious, loving relationships are about being fully present with another person while attuning to oneself.
Unfortunately, our modern lifestyle does little to support this. The daily grind is so full of pressure and stress that most people 'squeeze in' quality connection time with spirit, others, and themselves. (You deserve more than that!)
Technology + lockdowns have left us disconnected from one another. (We're over it.)
Our lifestyles are focused on devices and modern conveniences that have created a chasm between us and the wisdom of nature. (Let's go back to our roots!)
The breakdown of our society and relationships is mirroring this to us daily. Consciously creating time for connection is more important than ever.
This powerful trifecta not only brings beauty and meaning back into our lives, but it is also what ultimately heals our world.
Yes, I want to register
A Safe Space to Be Real
Together, the facilitators bring wisdom, expertise, and experience and are committed to creating a safe space for participants to learn and grow.
Our weekend together will be held in a caring embrace. We'll create, discuss, and agree to community guidelines, including confidentiality, acceptance, self-regulation, personal responsibility, and awareness of group synergy.
Are you feeling the call to make a bold change in your life?
If you are feeling overwhelmed or underwhelmed with the idea of love…

If you are feeling disconnected or discouraged…

If you sense a passion inside you waiting to be unleashed…
Join us at the base of sacred Mt. Shasta for illumination, exploration, and renewal. Walk barefoot in the pines, sing around the fire, wade in alpine lakes, eat nourishing meals, sit by the creek, lay in the grass, and connect with your soul family.
We all need time to unplug, be honest with ourselves, play, and be inspired! And to be witnessed in all of it makes it even more powerful!
Take a break from self-judgments, shoulds, to-do lists, and responsibilities. This is a time for exploration, connection, and self-nurturing - and you deserve it.
Do I have to be in shape to take the nature excursions?
How many participants do you expect?
Will there be a balance of men and women?
Will be group activities on Monday or Friday that I could join?
What airport do I fly into?
What are my lodging options?
I have dietary restrictions. Will the meals meet my needs?
Is this a drug and alcohol-free retreat?
Do I need to pack any special clothing, supplies, or equipment?
What is the cancellation policy?
Can I bring my pet and/or ESA?